Dr. Burgess and staff are pleased to introduce laser therapy to our office with the Multi Radiance MR4 LaserStim. This is a Low Level Laser that was designed for soft tissues and is different than surgical lasers in that it is much safer to operate; it is painless and does not produce heat like a surgical laser. The light energy from the laser turns into chemical energy once it enters the body. It works on healing at the cellular level and accelerates the normal healing process. It helps repair old cells, encourages new cell growth, reduces inflammation, and can soften scar tissue. Low Level Laser therapy provides a temporary increase in blood circulation, and can give relief from muscle and joint aches, pain, weakness, and stiffness. It also can help with the pain and stiffness of arthritis and the discomfort of nerve pain.

The new LaserStim emitter is the first of its kind, a hybrid emitter that provides both light therapy and TARGET technology (Treatment Area Recognition and Guidance Enhanced Technology). This emitter was specifically designed for pain and rehabilitation specialists, to treat a wide range of injuries and conditions, as well as the management of chronic and acute pain.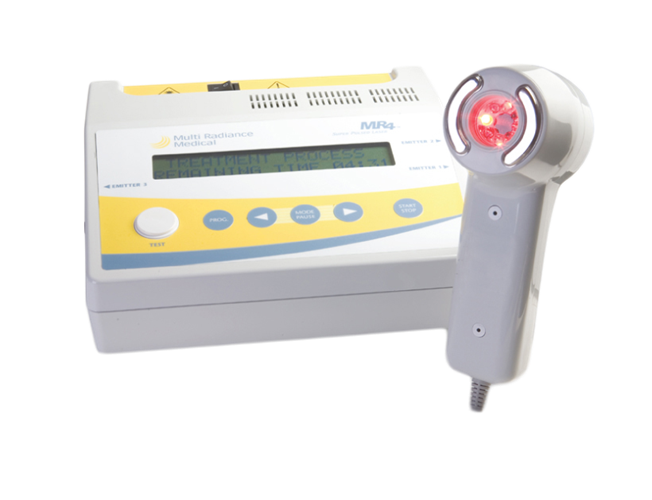 The LaserStim is FDA approved for the treatment of carpal tunnel syndrome and has an 84% success rate with the treatment of carpal tunnel. The MR4 is also used for pain management for the symptoms of such conditions as: neck and spinal pain, tendonitis, bursitis, frozen shoulder, muscle pain, TMJ, arthritis, nerve root irritation, and shoulder, elbow, ankle, foot and knee pain, to name a few.

To see if Laser Therapy is right for you, please call or contact us for a complimentary consultation with Dr. Burgess. You can discuss your conditions with him, and he will tell you if he thinks laser therapy can work for you.